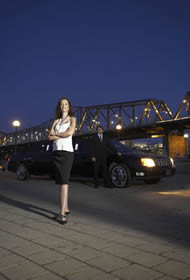 Are you having trouble deciding on a limo? Then check out our
guide to limousine types
to find what all of your choices are!
Welcome New Companies
Colorado Airport Transportation, LLC in Denver, co
cooper limo in mantua, nj
DCACAR in Herndon, VA
Atlanta Limo Car Service in Atlanta, GA
Northwest Limousine Service in Blaine, wa
B & M Limo Service in Cuddy, PA
SAMMY'S LEBANESE RESTAURANT in Houston, Tx
Viking Airport Taxi in Minneapolis, MN
Chicago Flycar Limo in Chicago, IL
Cleveland Limousine Service in Cleveland, OH
Grand Avenue Worldwide in Nashville, TN
Hartford Limos in West Hartford, CT
Queens Village Car Service in Queens Village, NY
BTG Inc - boston Limo in boston, ma
Anthonys Limo Airporter in Penn Valley, Ca
Limo Company Directory
Are you planning a special occasion, such as a night out on the town or a special dinner or party with someone that you care about? Having the right transportation can make a very large difference when it comes to creating the perfectly orchestrated evening. If you are serious about creating a special occasion and you want the transportation aspect of your evening to be perfect, then it would be wise to find a limo company in your area.

Contacting a limo company is easy enough, and typically customers can easily afford their very own limousine and driver for a set period of time. Most limo companies allow their fleet to be rented out on an hour by hour basis, meaning that your limousine will arrive where you need it and when you need it, and will be available to you for as long as you need before returning you home again.

If you are planning an anniversary, a birthday, a wedding or another special event and transportation is an important part of the planning process, consider contacting a limo company. There is no better way to travel to your destination than in style seated in the back of a gorgeous stretch limousine.
Welcome New Companies:



Limousine Costa Mesa



Limousine Costa Mesa is a top-notch limousine rental company in Costa Mesa /Orange County Area. Our limousines are very luxurious, stunning looking an...



Costa Mesa, CA
Latest Reviews:



Black Car Executive Sedan Service in Sun Valley, CA
from S. Michael Pelletier
We used Blackcar for both to LAX for the trip to Hawaii and for our return home from the airport. Both were on time and featured good drivers that wer...Details